RESERVED AREA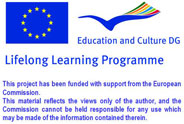 Database of Document
Homepage > Documents > Reviews of Pubblication
TITLE OF PRODUCT
:
Photo of Sestilio and Santa, Italians, emigrated to Belgium, after their wedding, in front of their first house
NAME OF AUTHOR(S)
:
UNKNOWN
PLACE AND DATE OG PUBBLICATION
:
BELGIUM
DESCRIPTION OF CONTENTS
:
The two people in the photo are Bibi Sestilio and Di Ferdinando Santa's wife after the wedding. They are in Belgium, probably in front of their house. They are sitting on a stone wall next to a staircase. Behind them there is some grass, in the distance there is a child and there are some houses. The woman is wearing a white dress with a white rose in the centre and a necklace. The man is wearing a pair of trousers , a shirt with a tie and a pullover. It's a black and white photo, it has a square shape and it was taken when they were young.
COMMENTS ON THIS DOCUMENT
:
From their expression we can understand their happiness for the wedding, and that they are in love.
NAME OF COMPILER
:
PAVEL ROXANA & FALLACARA GIUSEPPINA
NAME OF INSTITUTION
:
HIGH SCHOOL FOR SOCIAL SCIENCES "B.ANGELA" FOLIGNO (PG)
Routes - Copyright 2009 - This project has been funded with support from the European Commission