RESERVED AREA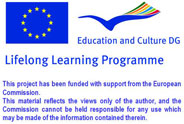 Database of Document
Homepage > Documents > Reviews of Pubblication
TITLE OF PRODUCT
:
Kultúra a multikultúrnosť - tréningový materiál
NAME OF AUTHOR(S)
:
Sabol, J., Zubková, I.
PLACE AND DATE OG PUBBLICATION
:
1996, Bratislava
LANGUAGE/S OF PRODUCT
:
slovensky
DESCRIPTION OF CONTENTS
:
Kultúra, jej štruktúra, kultúrne variácie, multikulturalizmusm, aktivity
COMMENTS ON THIS DOCUMENT
:
Tréningový materiál sa zaoberá fenoménom kultury a multikulturalizmu. Prináša základnú a užitočnú terminológiu, užitočnú pre učiteľov predtým než sa začnú touoto témou zaoberať. Materiál obsahuje kreatívne a diskusné aktivity, ktoré môžu pomôcť študentom pochopiť nevyhnutnosť multikulturality. Kniha obsahuje tiež niekoľko zaujímavých príbehov a legiend poukazujúcich na dôležitosť inej kultúry.
NAME OF COMPILER
:
Milan Pukancik
NAME OF INSTITUTION
:
TRANSFER
Routes - Copyright 2009 - This project has been funded with support from the European Commission