RESERVED AREA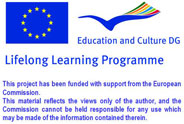 Database of Document
Homepage > Documents > Reviews of Pubblication
TITLE OF PRODUCT
:
Rom: un problema politico?
NAME OF AUTHOR(S)
:
Radio3 , Fahrenheit
PLACE AND DATE OG PUBBLICATION
:
13/08/07 Fahrenheit Radio3
LANGUAGE/S OF PRODUCT
:
Italiano
DESCRIPTION OF CONTENTS
:
Il programma si occupa del problema sociale dei Rom. Consiste in un'intervista di alcuni esperti che parlano della loro esperienza e opinione riguardo al problema: Marco Revelli, Alessandro Boni, Alexian Santino Spinelli. Le informazioni che emergono dall'intervista sono che circa 9 milioni di Rom vivono in Europa in condizioni difficili. Inoltre sono soggetti al pregiudizio e alla diffidenza da parte di persone che non conoscono per niente le loro tradizioni e cultura. I problemi principali che toccano i Rom riguardano la sicurezza e l'ordine pubblico. Nell'intervista viene anche brevemente affrontata la storia delle Misure di sicurezza realizzate per regolare l'immigrazione in Italia dal 1983 ad oggi.
COMMENTS ON THIS DOCUMENT
:
Il problema dell'integrazione degli immigrati in Italia è una questione molto importante. La nostra scarsa conoscenza della cultura romena non ci permette di essere oggettivi e tolleranti. Noi siamo probabilmente impauriti da queste persone che si ritirano in se stessi senza permetterci di conoscerli. In questi casi il pregiudizio causa solo violenza e problemi sociali che coinvolgono anche il paese che li ospita.
NAME OF COMPILER
:
Lucia Lucarini, Valentina Tardioli
NAME OF INSTITUTION
:
ISIC Federico Frezzi Foligno
Routes - Copyright 2009 - This project has been funded with support from the European Commission