RESERVED AREA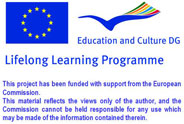 Database of Document
Homepage > Documents > Reviews of Pubblication
TITLE OF PRODUCT
:
Mittelosteuropa: Jugend zwischen Mobilität und Migration. Aktuelle Analyse. (DE)


NAME OF AUTHOR(S)
:
Eva Feldmann-Wojttachnia
PLACE AND DATE OG PUBBLICATION
:
2007, CAP Forschungsgruppe Jugend und Europa
LANGUAGE/S OF PRODUCT
:
Deutsch
DESCRIPTION OF CONTENTS
:
Analyse zum Mobilitätsverhalten junger Mittelosteuropäer. Auseinandersetzung über ökonomisch versus persönlich/beruflich motivierter Migration und den Mobilitätsvorstellungen der EU.
Routes - Copyright 2009 - This project has been funded with support from the European Commission