RESERVED AREA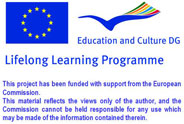 Database of Document
Homepage > Documents > Reviews of Pubblication
TITLE OF PRODUCT
:
Anregung zum interkulturellen Dialog: Die Geschichte von Surenthini – einem tamilischen Mädchen aus Bern.
NAME OF AUTHOR(S)
:
Marie Anne Pinheiro Fankhauser and Christoph Erismann.
PLACE AND DATE OG PUBBLICATION
:
2009, Bern.
LANGUAGE/S OF PRODUCT
:
German.
DESCRIPTION OF CONTENTS
:
Unterrichtsmaterial für die Zielgruppe 13 bis 15 Jährige (Sekundarstufe I) mit Lesetext, Arbeitsaufträge, Bilder und Hintergrundsinformationen.
NAME OF COMPILER
:
Ivan Ureta.
NAME OF INSTITUTION
:
University of Lugano.
Routes - Copyright 2009 - This project has been funded with support from the European Commission