RESERVED AREA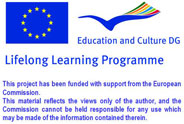 Database of Document
Homepage > Documents > Reviews of Pubblication
TITLE OF PRODUCT
:
Fear of Romanians. A photographic witness of racism
NAME OF AUTHOR(S)
:
Radio 3 - "Fahrenheit"
PLACE AND DATE OG PUBBLICATION
:
09/03/2009
LANGUAGE/S OF PRODUCT
:
Italian
DESCRIPTION OF CONTENTS
:
The tape registration is about the fear of the Romanians in Italy. The presenter introduces to us three of the most important representatives Romanians in Italy : Laura Vasii, president of the association Dacia Felix, Mihai Muntean, from the '' Romanian identity party'', and Emilia Stoica, president of the Romanian league. They speak about their experiences in Italy and especially about the change of Italian population toward Rumanians after Giovanna Reggiani's murder.
COMMENTS ON THIS DOCUMENT
:
The document , through the reflections and the depositions of the people who live and work in Italy since many years, shows us what Romanian immigration in Italy represents in the eyes of the public opinion. Unavoidably, this lead us to think hard if the real problem, for example, of Romanian immigration is the immigrant's violence or the Italian's intolerance. By means of this registration, we can also understand that the same Romanians, living in a foreign nation, are the protagonists of a very new and strong collective fear, as well as the intolerance that already affects all the local population.
NAME OF COMPILER
:
Valentina Vitelli
NAME OF INSTITUTION
:
I.S.I.C. - F. Frezzi
Foligno (PG)
Routes - Copyright 2009 - This project has been funded with support from the European Commission