RESERVED AREA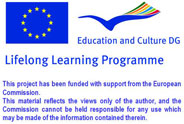 Database of Document
Homepage > Documents > Reviews of Pubblication
TITLE OF PRODUCT
:
Migration, a phenomenon debated by the Archbishopric of Bucharest
NAME OF AUTHOR(S)
:
Narcisa Balaban
PLACE AND DATE OG PUBBLICATION
:
7 November 2007, Bucharest
TYPE OF PRODUCT
:
Article, Web Article
LANGUAGE/S OF PRODUCT
:
Romanian
DESCRIPTION OF CONTENTS
:
The article refers to the topics discuss within the conference organized by the Archbishopric of Bucharest, after the incidents that occur in Italy at the end of 2007. The main topic of discussion was the Biblical mission in a world in continues change (migration). The conference was moderated by the Patriarchal of the Romanian Orthodox Church and the vicar of the Metropolitan of Moldavia and Bucovina. One of the problems encountered between the Romanian from abroad refers to the mix marriages and divorce. The main conclusion was that the church must develop new integration measures of the orthodox families in the present ecumenical context. Some of the solutions identified by the Romanian priests refer to the promotion of responsibility and the cultivation of the spirit of collaboration between the clerics; the support of the Romanian citizens in maintaining the religious and national identity, especially of those citizens from EU states; the increase of the religious, cultural, social and national missions through radio and television in order to conserve the identity of Romanians from all over the world.

In addition to this, the representatives of the church concluded that is necessary to guide the Romanians from abroad in order to avoid some crimes that could compromise the Romanian name. One of the identified solutions refers to the organization of Sunday church and grant-aided schools in the Romanian language.

COMMENTS ON THIS DOCUMENT
:
The article offers a large perspective of the church regarding the situation of Romanians that leave abroad. The high representatives of the church consider that by conserving the national and religious identity of Romanians, they can avoid some of the problems generated by mix cultures.
NAME OF COMPILER
:
Victoria Captari
NAME OF INSTITUTION
:
APOWER
Routes - Copyright 2009 - This project has been funded with support from the European Commission