RESERVED AREA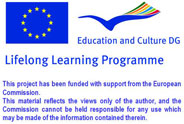 Database of Document
Homepage > Documents > Reviews of Pubblication
TITLE OF PRODUCT
:
Migranti nordafricani, l'ufficio della migrazione è pronto.
NAME OF AUTHOR(S)
:
Ciro Fusco.
PLACE AND DATE OG PUBBLICATION
:
2011, Lugano.
TYPE OF PRODUCT
:
Article, Web Article
LANGUAGE/S OF PRODUCT
:
Italian.
DESCRIPTION OF CONTENTS
:
La Confederazione può gestire attualmente al mese 1200-1800 domande di richiedenti l'asilo, per i quali dispone di posti. Tali richieste possono essere trattate rapidamente, ma se il numero di rifugiati dovesse essere superiore, questi ultimi verranno ripartiti sui cantoni ha indicato la vicedirettrice dell'Ufficio federale della migrazione (UFM) Eveline Gugger Bruckdorfer in un'intervista rilasciata al domenicale "Sonntag".
NAME OF COMPILER
:
Ivan Ureta.
NAME OF INSTITUTION
:
University of Lugano.
Routes - Copyright 2009 - This project has been funded with support from the European Commission