RESERVED AREA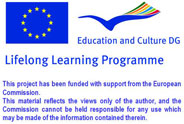 Database of Document
Homepage > Documents > Reviews of Pubblication
TITLE OF PRODUCT
:
Zeitschrift für Migration und Arbeit. Fachzeitschrift des Instituts für Sozialarbeit und Sozialpädagogik. Heft 2: Familienhilfen für Migranten. Heft 3 und 4 Diversity und interkulturelle Kompetenz. (DE)
NAME OF AUTHOR(S)
:
Juventa Verlag
PLACE AND DATE OG PUBBLICATION
:
2009, Weinheim
LANGUAGE/S OF PRODUCT
:
Deutsch
DESCRIPTION OF CONTENTS
:
Themen der Fachzeitschrift 2009.
WEBSITE OF THE PRODUCT
:
www.iss-ffm.de
Routes - Copyright 2009 - This project has been funded with support from the European Commission