RESERVED AREA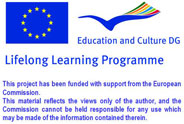 Database of Document
Homepage > Documents > Reviews of Pubblication
TITLE OF PRODUCT
:
Fotografia del figlio di Bibi Sestilio
NAME OF AUTHOR(S)
:
Anonimo
PLACE AND DATE OG PUBBLICATION
:
La Louvière
LANGUAGE/S OF PRODUCT
:
fotografia
DESCRIPTION OF CONTENTS
:
Fotografia a colori, 12,6x9.
Scattata all'aperto, di fronte alla casa della famiglia Bibi


COMMENTS ON THIS DOCUMENT
:
E' una giornata soleggiata. Tre bambini vengono ripresi nella fotografia. Quello in mezzo è il figlio della famiglia Bibi vestito con i costumi tradizionali del carnevale belga. Riguarda l'immigrazione perché è stata scattata quando ancora la famiglia Bibi abitava a "La Louvière".
NAME OF COMPILER
:
Orazi Vanessa e Pericolini Consuelo
NAME OF INSTITUTION
:
I.S.I.C. "F.Frezzi-B.Angela"
Foligno (pG)

Routes - Copyright 2009 - This project has been funded with support from the European Commission