RESERVED AREA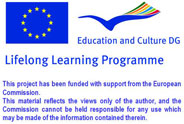 Database of Document
Homepage > Documents > Reviews of Pubblication
TITLE OF PRODUCT
:
Being Belgian (Etre belge)
NAME OF AUTHOR(S)
:
Marie-Noëlle LELOUP – educational psychologist and teacher cultural diversity education in a higher school
PLACE AND DATE OG PUBBLICATION
:
Non-profit-making organization Grappa – September 2008
LANGUAGE/S OF PRODUCT
:
French
DESCRIPTION OF CONTENTS
:
From a text in which a Belgian on a trip in Switzerland is confronted with the issue of his identity, a research work, an analysis work in groups enables the participants to discover that Belgium has got an artistic and culinary heritage, languages and customs which are peculiar to it. But this heritage has been enriched thanks to the contribution of foreigners who have lived or live in Belgium. In the same way, Belgium exports a part of its heritage, which is so to the advantage of other countries, of other cultures. There are also several kinds of Belgian identities, according to the origin and the area where people live.
NAME OF INSTITUTION
:
Non-profit-making organization Grappa
Routes - Copyright 2009 - This project has been funded with support from the European Commission