RESERVED AREA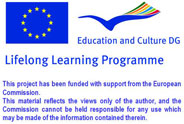 Database of Document
Homepage > Documents > Reviews of Pubblication
TITLE OF PRODUCT
:
Ako sa stať Kanaďanom?
NAME OF AUTHOR(S)
:
Ing. Jozef Burza PhD, Ing. René Augustín
TYPE OF PRODUCT
:
Report, Survey
LANGUAGE/S OF PRODUCT
:
slovensky
DESCRIPTION OF CONTENTS
:
Základné informacie o Kanade, typy víz na rôzne druhy pohytu,úvod do základov pochopenia života v Kanade, pochopiť život v Kanade pred príchodom. Popis administratívneho postupu získania občianstva a základné informácie pre tých čo chcú zostať žiť v Kanade.
COMMENTS ON THIS DOCUMENT
:
Kniha je napísaná vo veľmi priateľskom štýle, čitateľ v nej môže nájsť množstvo zaujímavých a užitočných informácií o Kanade ako návštevníka, , študenta, alebo uchádzača o prácu
NAME OF COMPILER
:
Milan Pukancik
NAME OF INSTITUTION
:
TRANSFER
Routes - Copyright 2009 - This project has been funded with support from the European Commission