RESERVED AREA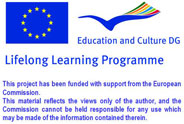 Database of Document
Homepage > Documents > Reviews of Pubblication
TITLE OF PRODUCT
:
Bibi Sestilio e Di Ferdinando Santa dopo il matrimonio, di fronte alla loro prima casa.
NAME OF AUTHOR(S)
:
anonimo
PLACE AND DATE OG PUBBLICATION
:
BELGIO
DESCRIPTION OF CONTENTS
:
Le due persone nella fotografia sono Bibi Sestilio e sua moglie, Di Ferdinando Santa, dopo il matrimonio. Sono in Belgio, probabilmente di fronte alla loro casa. Sono seduti su un muretto affianco a una scalinata.
Dietro le loro spalle c'è dell'erba, un po' più distante un bambino e delle case. La donna indossa un vestito bianco con una rosa bianca al centro e una collana. L'uomo indossa un paio di pantaloni, una camicia con una cravatta e un maglione. E' una fotografia in bianco e nero, ha un riquadro ondulato ed è stata fatta quando erano giovani.

COMMENTS ON THIS DOCUMENT
:
Dalle loro espressione si capisce che erano felice per il matrimonio, e che si amavano.
NAME OF COMPILER
:
PAVEL ROXANA e FALLACARA GIUSEPPINA
NAME OF INSTITUTION
:
I.S.I.C. "F.Frezzi-B.Angela"
Foligno (PG)


Routes - Copyright 2009 - This project has been funded with support from the European Commission