RESERVED AREA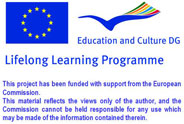 Database of Document
Homepage > Documents > Reviews of Pubblication
TITLE OF PRODUCT
:
Multicultural education: same training material
NAME OF AUTHOR(S)
:
Vladimír Klein
LANGUAGE/S OF PRODUCT
:
Slovak
DESCRIPTION OF CONTENTS
:
Basic terminology, multicultural education, Roma integration, multicultural eduction in Slovak school system, activities.
COMMENTS ON THIS DOCUMENT
:
Training material involves activities that can be used in a multicultural education in a form of folk wisdoms, sayings, community games, other activites. Involves also some important informaion about multiculturality and analyses the multicultural approach with the Slovaqk schol system. Emphasises the need of more implementation of tolerance and human rights education.
NAME OF COMPILER
:
Milan Pukancik
NAME OF INSTITUTION
:
Transfer
Routes - Copyright 2009 - This project has been funded with support from the European Commission