RESERVED AREA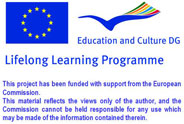 Database of Document
Homepage > Documents > Reviews of Pubblication
TITLE OF PRODUCT
:
Nielen čísla
NAME OF AUTHOR(S)
:
UNHCR / IOM
PLACE AND DATE OG PUBBLICATION
:
2009, Bratislava
LANGUAGE/S OF PRODUCT
:
slovensky
DESCRIPTION OF CONTENTS
:
Úvod do pojmov migracie a azylu, terminologia, kreativne aktivity pre pracovníkov s migrantmi workers, špeciálne pre detí, azyl a migracia v mediach,
COMMENTS ON THIS DOCUMENT
:
Sprievodca pre učiteľov ponúka vstup do pojmov migrácie a azylu. Uvádza inštrukcie ako pracovať so študentami o migrantoch, podporovať ich aj ekonomicky. Na DVD je tiež dokumentácia obsahujúcca niektoré základné fakty viažuce sa k azylu, migračný pohyb vo svete a možné riešenia.
Sprievodca môže byť veľmi užitočný na to ako prezentovať tieto témy študentom a formovať ich postoje v patričnej miere akceptácie migrantov a utečencov.

NAME OF COMPILER
:
Milan Pukancik
NAME OF INSTITUTION
:
TRANSFER
Routes - Copyright 2009 - This project has been funded with support from the European Commission