RESERVED AREA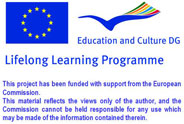 Database of Document
Homepage > Documents > Reviews of Pubblication
TITLE OF PRODUCT
:
L'immigration en France : textes et documents pour la classe
NAME OF AUTHOR(S)
:
Collectif, en lien avec le Centre National de Documentation Pédagogique (CNDP) et la Cité Nationale de l'Histoire de l'Immigration.
PLACE AND DATE OG PUBBLICATION
:
Mai 2007 (TDC N°936)
LANGUAGE/S OF PRODUCT
:
Français
DESCRIPTION OF CONTENTS
:
A travers différents documents, ce numéro de TDC aborde le thème de l'immigration en France.
Une première partie aborde les « savoirs (le point : venus d'ailleurs ; décryptage : le trait xénophobe ; droit : dans le maquis juridique ; histoire : un passé colonial qui ne passe pas ; interview : voir la différence culturelle comme une chance ; sociologie : les trois âges de l'intégration ; hors champ : comment enseigner l'histoire de l'immigration…).
Deux autres parties abordent la pédagogie école (littérature cycle 3 : migration des hommes et géographie - éducation civique cycle 3 : étrangers et immigrés en France) et la pédagogie lycée (géographie – éducation civique – ECJS 3ème – 1ère : L'Alsace porte de la France ; histoire 1ère : la France, terre d'immigration).
La revue propose également une partie ressources.
Through various documents the number of TDC tackles the issue of immigration in France.
COMMENTS ON THIS DOCUMENT
:
TDC permet, à l'aide de multiples documents de différentes natures (texte, illustrations, statistiques…) d'aborder le phénomène de l'immigration en France avec des élèves de différents niveaux.
NAME OF COMPILER
:
Frédéric Rousselle / Marika Kovacs
NAME OF INSTITUTION
:
CNFETP
Routes - Copyright 2009 - This project has been funded with support from the European Commission