RESERVED AREA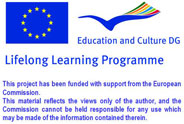 Database of Document
Homepage > Documents > Reviews of Pubblication
TITLE OF PRODUCT
:
Berichterstattung zur sozioökonomischen Entwicklung in Deutschland.- Arbeit und Lebensweisen. Erster Bericht (DE)
NAME OF AUTHOR(S)
:
Soziologisches Forschungsinstitut, Institut für Arbeitsmarkt -und Berufsforschung, Institut für SozialwissenschaftlicheForschung, Institut für empirische Berichterstattung; Hrsg.
PLACE AND DATE OG PUBBLICATION
:
2005, Verlag für Sozialwissenschaften, o.O.
TYPE OF PRODUCT
:
Report, Survey
LANGUAGE/S OF PRODUCT
:
deutsch
DESCRIPTION OF CONTENTS
:
Dieser Bericht ist eine Zusammenfassung und Auswertung der gesellschaftlichen Entwicklungen und ihrer Bedigungsfaktoren.
Routes - Copyright 2009 - This project has been funded with support from the European Commission