RESERVED AREA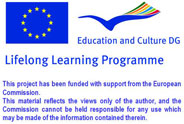 Database of Document
Homepage > Documents > Reviews of Pubblication
TITLE OF PRODUCT
:
Etre belge
NAME OF AUTHOR(S)
:
Marie–Noëlle LELOUP (psychopédagogue et professeur d'éducation à la diversité culturelle en Haute Ecole)
PLACE AND DATE OG PUBBLICATION
:
Asbl Grappa – septembre 2008
LANGUAGE/S OF PRODUCT
:
Français
DESCRIPTION OF CONTENTS
:
A partir d'un texte dans lequel un belge en voyage en Suisse se voit confronté à la question de son identité, un travail de recherche d'analyse en groupe permet aux participants de découvrir que .la Belgique a un patrimoine artistique et culinaire, des langues et des coutumes qui lui sont propres. Mais ce patrimoine s'est enrichi grâce aux apports d'étrangers qui ont vécu ou vivent en Belgique. Réciproquement, la Belgique exporte une partie de son patrimoine, qui profite ainsi à d'autres pays, à d'autres cultures. Il y a aussi plusieurs sortes d'identités belges, selon l'origine et la région où l'on vit.
NAME OF INSTITUTION
:
Asbl Grappa
Routes - Copyright 2009 - This project has been funded with support from the European Commission