RESERVED AREA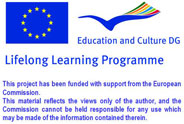 Database of Document
Homepage > Documents > Reviews of Pubblication
TITLE OF PRODUCT
:
Gloria Band: a Romanian Band who sings in African
NAME OF AUTHOR(S)
:
Gloria Band
LANGUAGE/S OF PRODUCT
:
Romanian
DESCRIPTION OF CONTENTS
:
Gloria was formed in 1997 when a few young African students and refugees set the basis of a group in order to comfort themselves as they felt homesick but also in order to bring a small part of their native Congo to Romania. At the beginning they used to sing for fun in their free time. Then they realized there were no bands to sing African music in Romania so they decided to fill an empty space. They set a double target: promote African culture and help refugees integrate in Romania. Others joined the group not only from the Congo Republic but from different African countries who have another type of music. All Africans have music flowing through their blood, they are born with musical talent. Music is the only refuge in an area of the world where poverty and political fights are everyday realities. Mbaki was part of a student political organization and the political party then governing Congo did not like that group of people. That is why he was forced to leave Congo. The band has the following members: Mbela Nzuzi from Congo, Mbaki Makengo from Congo, Vincent Calissa from Rwanda, Aime Lema from Congo, Cristian Prihotca from Romania and Sorin Petrescu from Romania.
Their album entitled "Africa" is dedicated to refugees everywhere. It was produced by ARCA- The Romanian Forum for Refugees and Migrants. Most tunes have African rhythms and texts. One of them, sung both in French and Romanian is called "Life is beautiful and worth living".
COMMENTS ON THIS DOCUMENT
:
The article about Gloria Band relates how foreign migrants in Romania try to preserve their culture and language in spite of all difficulties caused by integration

NAME OF COMPILER
:
JURCA MIHAELA

NAME OF INSTITUTION
:
SECONDARY SCHOOL NO 22 TIMISOARA ROMANIA


Routes - Copyright 2009 - This project has been funded with support from the European Commission