RESERVED AREA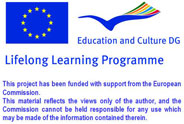 Europe for Schools
Europe for Schools
This section provides access to an Online Course addressed to school teachers on the opportunities for transnational cooperation, mobility and partnership among European schools.

The Course was developed to answer the need expressed by the teachers involved in the Routes project to continue the fruitful cooperation started within the project through the effective use of the services and sources made available for the schools by the European Commission.

The Course has the aim to provide an basic overview of the trans European cooperation opportunities for schools who are willing to work together in a transnational context, for enhancing the discussion on the theme of how the European integration process helped to support the dialogue and mutual understanding among European citizens.
Routes - Copyright 2009 - This project has been funded with support from the European Commission