RESERVED AREA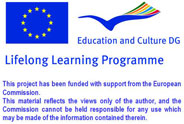 Reports
Homepage > Reports > Methodology
Methodology
The eight National Reports are the result of a survey activity carried out by teachers and experts. They also integrate the information about migration provided in the Documents and in the Interviews sections.

The Reports therefore provide the teachers using the Routes Portal with an overview of the general (historical, social, economical, cultural) features of migration issues and a critical interpretation of the Documents in the database.

The National reports also constitute the background of the Transnational Report and of the On-line Manual, that re-edits their contents in a synthetic and interactive way.

Therefore both the National and the Transnational reports are a "second level" educational material: they offer a plain exposition of the migration phenomenon and of the collected material.

The students should be invited to go back to the Reports after using the on-line Manual for example to find in the reports the justification of what the manual says.
Routes - Copyright 2009 - This project has been funded with support from the European Commission