RESERVED AREA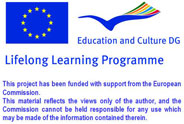 Exploitation
Exploitation
In order to improve the impact of the project on its direct target groups (i.e. secondary school teachers) and to foster the project's sustainability a number of actions were carried out.

Several links were activated from educational web sites towards the Routes portal.

Also, several institutions expressed the willingness to be involved in the project and to contribute to the maintenance of its results beyond the funding period. They were actively involved in the project as associated partners.

For the valorization of the project results a Final Conference was organized in Foligno on the 5 November 2010.
Routes - Copyright 2009 - This project has been funded with support from the European Commission